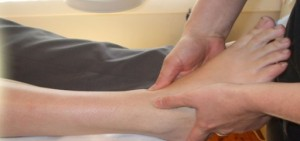 Treatment Technology & Foot Mobilisation
Foot mobilisation is a hands on technique that we frequently use at the Northern Foot Clinic.  The technique can assist in restoring your foot and leg joint mobility and functionality. Our podiatrists have many years' experience and training utilising multiple hands on techniques which may assist in reducing your pain and improving mobility.
Our foot mobilisation techniques are used on a daily basis for conditions such as heel pain (plantar fasciitis), chronic ankle pain, neuromas, cuboid syndrome, pain in the ball of the foot and general foot pain.
Foot mobilisation has been successful for many of our clients to assist in improving the effectiveness of their orthotic devices or in some cases to do without devices.